Anna Portelli
Service & Experience Designer
As a User Experience Designer I'm in charge of listening to users and translating their needs to a digital interface, designing interactions and elements in order to guarantee the best possible user experience.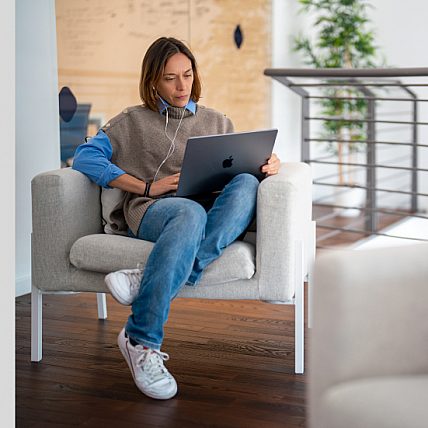 I've been doing this job since 2005, starting almost by chance, right after graduating in Communication Sciences in Turin. In these years I have discovered and worked for different business fields: from websites of public administration entities, to websites and apps for sports competitions, product communication projects, HMI and automotive infotainment and even home automation and smart fitness interfaces.
From all these experiences I learned that the secret for a good user experience is that of identifying with the people who will use our service and imagining their needs and the natural paths that will lead to their satisfaction. Translating all of this into easy, intuitive and effective digital interfaces is the essence of this job. A profession that evolves over time while remaining anchored in the one principle that people - whom we call "users" - is the true center of design.
I can say that I've often learned more in the field than in books. Furthermore, I've been lucky enough to meet people capable of teaching me the secrets of user experience and to work for brands and projects with ambitious goals such as the London 2012 Olympics.

In my work, the two moments I am most passionate about are defining the Information Architecture and conducting user testing.
On the one hand, ordering content, finding the right hierarchies and the best way to connect all the pages, is a challenge that intrigues me every time. I start my research with users, through surveys or card sorting, and then I arrive at the formulation of a proposal to evaluate and refine subsequent iterations.
User testing, on the other hand, is the litmus test of the entire design process, the most important part to ensure the best result.
In 2022 my path and Tangible's intersect to continue in the mutual sharing of User Centered Design principles and the strong belief in a collaborative and inclusive work environment.
I have talked about
Workshop Ethical Compass

Università di Bologna

Ethical Compass: progettare un'innovazione responsabile e consapevole

Workshop @ Digital Innovation Days 2022