Francesco Paradiso
Interface Designer
As User Interface Designer my role is to craft visual elements with whom a person interacts while using his device, living his experience as a user.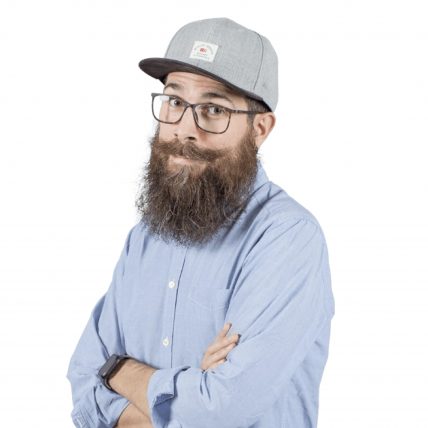 I deeply love my work, which consists in designing interfaces for digital products, without ever losing sight of the effectiveness, efficiency, usability, accessibility, inclusiveness and scalability of the solutions I create.
I know that the user's experience runs through a spectrum of emotions, from happiness to frustration and, as a designer, I fight to tip the balance towards happiness.
My background as a developer allows me to talk more easily with stakeholders and to have clear in mind all the constraints related to devices and platforms.
I like to be present at all design process stages, from capturing requirements to research, from the co-design to the realization of the first flows and I do my best at the end, while creating the prototype and designing the user interface.
I'm curious by nature, I never cease to ask questions and to seek answers.
Drugs I abuse: Pixel, Palette, Font and Design System.
Since I was a kid I always knew that my true vocation was to work with computers (and people).
I'm not one of those who started with the Commodore 64, I had to wait for Windows 95 to have my own computer. I have always been fascinated by everything that is art, design and creativity.
I guess that the love at first sight with the "graphic world" was when I was 10 and my parents gave me the Toy Story video tape: I watched it sitting on the floor in front of the TV and I realized that with the computer you could create wonderful things and you could tell stories.
How was it possible no being inspired by Buzz Lightyear personality and by his motto "To infinity and beyond!"? I still own that video tape, I wore it out and it's like a relic.
I admit that I periodically watch Toy Story and I am enchanted as if I were seeing it for the first time and even today my secret wish is to work at Pixar.
However I try to put to rest my love for graphic design and, after a degree in Computer Engineering with a specialization in computer networks, I immediately start to work.
In 2011 I join a global consulting firm based in Milan, I dive into the world of SAP and Business Intelligence, working for clients such as Bacardi, Ferrero, Italia Zuccheri, Wolter Kluwers and Italcementi.
Then I consciously choose to go back to the roots and I come back to my beloved Calabria in 2013.
I work as a Product Designer on an experience-based tourism platform, which allows users to build their own touristic experience.
I test the platform with real users and I led its evolution based on feedbacks and that's how I realise what human centered design really means. I start to feel the desire to apply those methodologies on a daily basis.
2014 is the beginning of the transition phase which led me to do the job that I have always desired to do: the designer.
I work with a startup company as iOS developer and UX / UI designer, on products related to the world of health, community and security. Then I choose to leave the word of lines of code and I dedicate myself only to pixels.
In 2017, as I wasn't able to work only as a designer, I give up the comfort of a full time job and I start my journey as a freelance user interface and user experience designer, because I want to focus on designing digital interfaces (semi-quote Ila).
This jump gives me the opportunity to work on digital products related to the world of logistics and transport, facial recognition and emotions analysis, paperless business processes, but I also had the opportunity to design ab e-commerce based on a new large-scale production-sale models, to work on products related to the automotive market and to the printing processes management.
I study, study, study, I continue to study and I never cease to study and I look for opportunities for discussion, to be inspired (by other pro better than me, by art and by nature).
I love sharing what I have learned over the years, so I've created and still support some of the most important digital design communities in Italy, the last of which is Figma Italia, which has become the Italian reference point Figma.
In my spare time I publish iOS apps. Some of them have exceeded 15M views, have been selected on the App Store and have ranked first for weeks.
Then, one day, I received an email that opened a new chapter in my professional and personal life and that's the chapter I'm writing here in Tangible, where I'm having the opportunity to use my skills at the best and to learn something new, every day, together with a group of amazing colleagues.
It's the beginning of 2019. Since then time flies away, I sit at my desk at my best, I am happy and I am always grateful.
"My name is Francesco... but everybody call me Frank." (semi-quote Giorgio Moroder)
I love the sea and the mountain, squirrels and border collies, books and notebooks, pizza (and spaghetti) and beer, cigars, strictly Toscano cigars, and F.'s smile.
If I'm not in front of my Macbook (it's very rare but I swear it happens) I'm probably practicing some mountain sports or I'm going back to my sea, I'm smoking solo a cigar or I am training for my next non-competitive run race.