Moreno Giorgini
Service & Experience Designer
What do I do? I connect the dots.
In Tangible my role is design architecture and interactions who take into account business, users and technical constraints.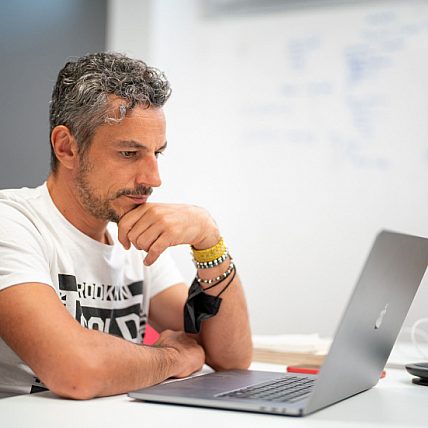 Every field has his needs and limits that intersect among them creating nodes, that I try to link them putting meaning within.
The approach I use in the design process is oriented to iterative development. Overview on all the process, but splitting releases to soon reach little goals, testables, under control. This process allow me aligning the design to Agile development and facilitating team domain, learning with the least possible risk.
To tell how I became a Service and Experience Designer i want to start from the beginning.
Lot of people knows from an early age what they'll do when they'll grow up, I wanted to became a petrol pump attendant, but unfortunately I didn't succeed.
Since I soon dropped out my child desire, I understood my way would follow a free direction, guided from my curiosity and emergent stimulus.
I graduated in 1996 as a surveyor, but I understood to be attracted from communication world, so I have subscribed to Scienze della Comunicazione in Macerata while I was working as a part-time carpenter.
After I got a degree it was time to take a new turn. Studying advertising, visual languages, psychology and sociology made me passionate about graphic design.
After a one-year course in graphic design indeed, and a little experimentation I done in making flyers for parties where I played as a dj, I found my first job in a little agency.
To meet the needs of the agency that I worked with, I started to study the web theme, between software, code and animations (it was 2006 and Flash was very cool).
In the next years I enhanced the frontend development theme (when it was webdesign yet) and I understood that If I wanted to grow in this field I would try the autonomous way. I registered for VAT.
At this time I had listened about User Experience but I didn't know well what it was.
I started reading and informing about it. I still had opened the Pandora's box, to be a designer without knowing who is and what the user does, has no tangible value.
New turn.
In 2013 I started to abandon frontend to dedicate myself full time to UX Design in a software development company, market leader in the Agile development area. In this period I have learned Agile and iterative techniques and principles (Agile, not smart working) and I was undertaken to apply this principles in the design process too, that is for definition, more prone to waterfall processes.
Later, in 2020, In Italy came the quarantine because of Covid. It was in this period that I made contacts with Tangible. We liked each other. And it was love immediately.
When I'm not working, I like to be outdoors. I love getting dirty with soil, running in the rain, traveling by motorbike and, every now and then, returning to listen to some electronic music.
Having said that it seems that I am a crazy child, in reality I do enduro, I go by bike and play football with friends and, having been a DJ, I miss the tunz tunz :-D