Valentina Marzola
Service & Experience Designer
I came to Tangible with one goal: take care of people by designing simple, fluid and inclusive experiences and interactions.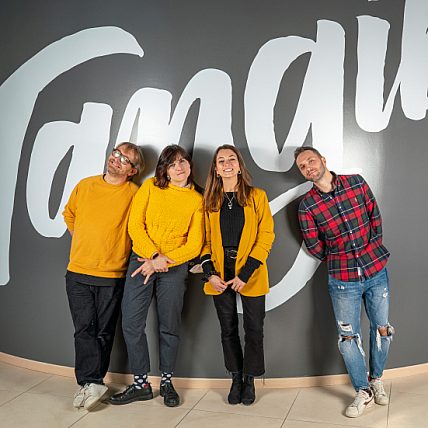 My path so far is anything but smooth. Thanks to my great passion for technology, but above all for foreign languages, as a young girl, I began my early career as a linguist. I studied Japanese grammar books striving to give grace to ideograms with a quite rough graceful handwriting... What a struggle! But it was worth the effort. After studying intensely different languages and foreign cultures, my passion evolved into research on multimedia communication. I couldn't lose technology along the way.

I'll never forget the hours I spent studying and writing my thesis on the RAI digital ecosystem, with its infinite number of sites, mini-sites and apps. It was such a joy! Above all, I can never forget the moment when, shortly after discussing my thesis, I opened the RAI website and it was totally revamped. First reaction: shock!
In the wake of my degree in Cinema, Television and Multimedia Production I had a lucky encounter with Luca Rosati that triggered a series of fortunate events. These made me realise that all this interest in human languages and behaviour, combined with my love for digital, could be channeled into the profession I have now, Experience and Service designer.
I've designed interfaces and services for many sectors, from manufacturing and IT, to PA, up to the consumer world, always with a boundless curiosity not only about the changing context (something I love about my job!) but also about people and business needs and requirements. I believe that my biggest challenge is keeping my curiosity and the constant need to know everything in check...have you ever seen the movie Matrix? Or Lucy? That's it.
Horror movies, paranormal stories and cartoons are my bread and butter.
I love my dog immensely and I think there are few things that can make me smile as much as the sound of my ukulele..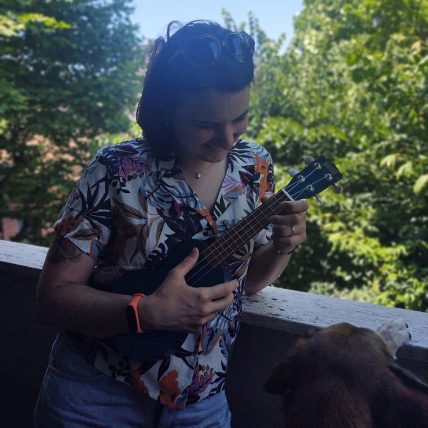 I have talked about
Workshop Ethical Compass

Istituto Einaudi Molinari

UI Design Master

TAG Innovation school Milano 2022

Workshop Ethical Compass

Accademia delle Belle Arti di Verona

UI Design Master

TAG Innovation school Roma 2022