Thinking
Privacy and Transparency: Pillars of Digital Ethics
We have adopted Matomo as our web analytics tool, valuing not only its technical capabilities but especially its commitment to user privacy protection and environmental sustainability of Open Source.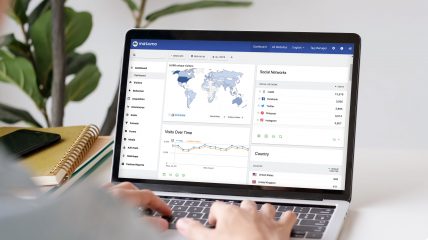 We live in an era dominated by digitalization. The information age has introduced a unique responsibility: Corporate Digital Responsibility (CDR). This emphasizes the ethical use of digital tools, covering areas such as environmental sustainability, online accessibility, and the protection of personal data. Today, facing the massive data collection, privacy and transparency have established themselves as foundations defining user trust and company reputation.

The tools chosen in this context have profound repercussions not only on technical performance but also on privacy, compliance with laws, and ecological footprint.
At Tangible, we place CDR at the core, committing to treating our users' data with the utmost respect and ensuring transparency in every action. That is why, in designing our website, we have adopted an approach reflecting these ethical and sustainable values.
Why Matomo is the Right Choice for Tangible
In recent months, we have increasingly felt the need for a tool that reflects our needs in terms of privacy, GDPR compliance, performance, and user experience.

We therefore asked ourselves some fundamental questions:
How can we ensure user privacy?
How can we offer transparency and control over the collected data?
Is there a way to reduce the environmental impact of our monitoring tools?
The answer was Matomo On-Premise, an open-source web analytics tool that mirrors our values and commitment to ethics and sustainability.
The Essential Role of Piano D in Our Transition
In our search for a more sustainable and privacy-respecting approach, we were fortunate to have the support and advice of Piano D, a digital agency pioneering digital sustainability in Italy. Just like us, Piano D is a Benefit Corporation and Certified B Corp, and it is at the forefront of raising awareness about the environmental impact of the digital sector. Their commitment and expertise were fundamental in advising and guiding us during this transition.

With Matomo On-Premise, we have improved the performance of our website in several aspects, including:
Privacy and Compliance

: Matomo is designed with privacy at its core and only collects anonymous data. It is also fully in line with GDPR and European cookie regulations.

Performance and User Experience

: Thanks to a lightweight monitoring script, Matomo ensures optimal performance, coupled with an intuitive interface that offers a high-level user experience.

Environmental Sustainability

: We appreciated Matomo's commitment to sustainability. The tool uses data centers powered 100% by renewable energy, and with its reduced script size, contributes to a smaller environmental impact.

Data Accuracy

: Matomo provides a detailed and accurate overview of visitors, allowing a comprehensive understanding of user interaction with our site.
An Ethical and Sustainable Future
At Tangible, we see transparency and privacy not only as legal obligations but as fundamental principles upon which to base our digital and non-digital strategy. Just as we have emphasized the need to design with accessibility in mind from the beginning, it is essential to consider these pillars in every decision. We believe these values should not be an afterthought but rather integral and fundamental components of every decision we make.

The environmental impact of the digital world is often underestimated, and we have already discussed this in the past. Every search query, every website visit, every online action consumes energy. The aggregate of billions of online interactions has a significant overall impact.

With Matomo, we not only guarantee greater privacy and transparency but also move towards greater environmental responsibility: it is not a simple technical decision, but a step forward towards a more ethical and sustainable future.