lol.travel
Positioning a new travel brand in the world, improving brand identity, conversion and retention rates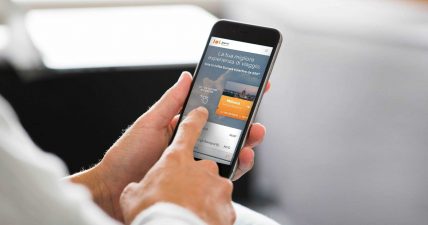 Achievements
+74%
Upsell of additional services
-21%
Calls to customer care
The client
lol.travel is one of the main Italian online travel website for comparison and booking: flights, hotels, holidays and car rentals. The lol.travel brand is part of Hotelbeds Group. Despite being a new born brand, lol.travel has twenty years of experience and relevant figures on annual turnover with more than 230,000 hotels, over 4000 airlines and low cost companies, exclusive holiday packages and more than 60 Tour Operators with a dedicated multilingual customer support.
Visit website: lol.travel
Context
The intentions of lol.travel were clear and precise right away: improving their portal performances through a bold user experience and brand identity renovation, in order to enhance brand memorability and increase customer loyalty. Goal: quickly become the leader in online booking, internationally, not only for the Italian market.
From the very beginning lol.travel has totally relied on our experience giving us utmost trust, essential to work freely, but with the awareness of having to deal with a reality that generates large figures, where choices and strategies have a large-scale impact.
An international project based on these large figures, oriented towards a "mobile-first" design that doesn't actually neglect the desktop experience: these are some of the challenges we had to face and overcome as a team.

Transformation and trust
Transformation
Together with us, Lol.travel has gone through a bold image and product strategy renewal. Designing a meaningful user experience, able to transform the brand awareness of lol.travel within the online booking market, allowed us to build the fundamental identity bases for future brand marketing strategies.
Trust
From the very first meetings, during the process of domain exploration, we established a clear connection that lasted for the following 9 months. A relationship made of participation, of complementary and spontaneous confrontation, of technical-strategic feedback. This kind of relationship has been crucial for a good work of co-planning. The presence of two structured teams has created a valuable multidisciplinary interaction that involved numerous roles from both sides of our teams, such as: Product Owner, Customer Care Office, Marketing Department and IT Department, Researcher, Experience designer, Visual designer and Front-end Web Developer. This multidisciplinary union has made it possible to organize meetings, workshops and co-design sessions of high design value.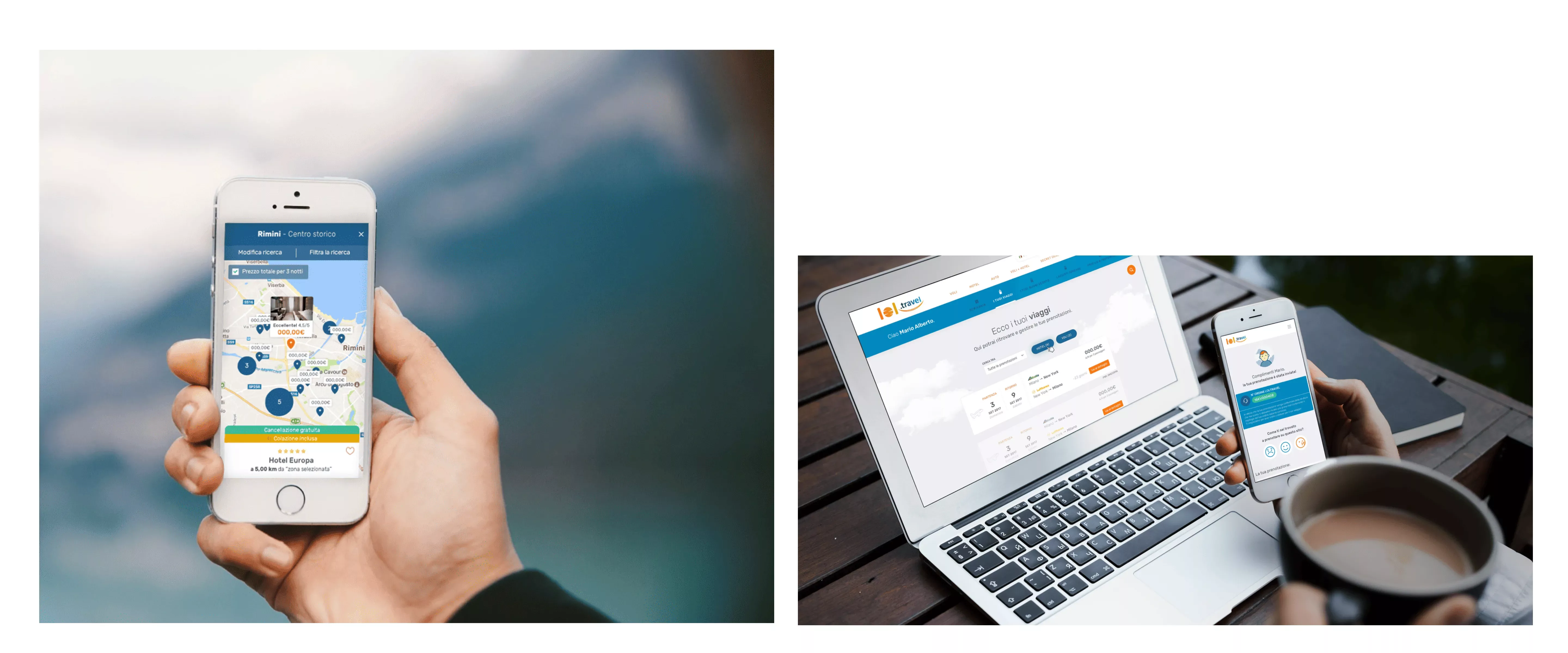 Simplifying complexity within 9 months of iterations
lol.travel had a vast and complex structure that included flights, hotels, car rentals, secret deals, flights and hotel packages. Therefore, it was essential to locate a pilot product in order to start re-planning the entire online booking structure. After a few meetings with the Product Owner, the IT department and the Marketing department, we have mapped 3 milestones. Afterwards, we planned in detail a roadmap of extensive activities.

The company needed to question and redesign the purchasing experience of the entire flight reservation within a 3-month period. The company aimed to become the most trusted partner for holiday booking. Our project plan was based on this milestone and focused on improving the flight tickets purchase by offering users an explorative and comparative experience able to match their own desires and needs. Carefully listening to the needs of both sides, business and users (actual and potential clients) has led to create a new design of the booking funnel, according to the Acquisition-Activation-Retention-Revenue-Referral model, which significantly increased the conversion rate.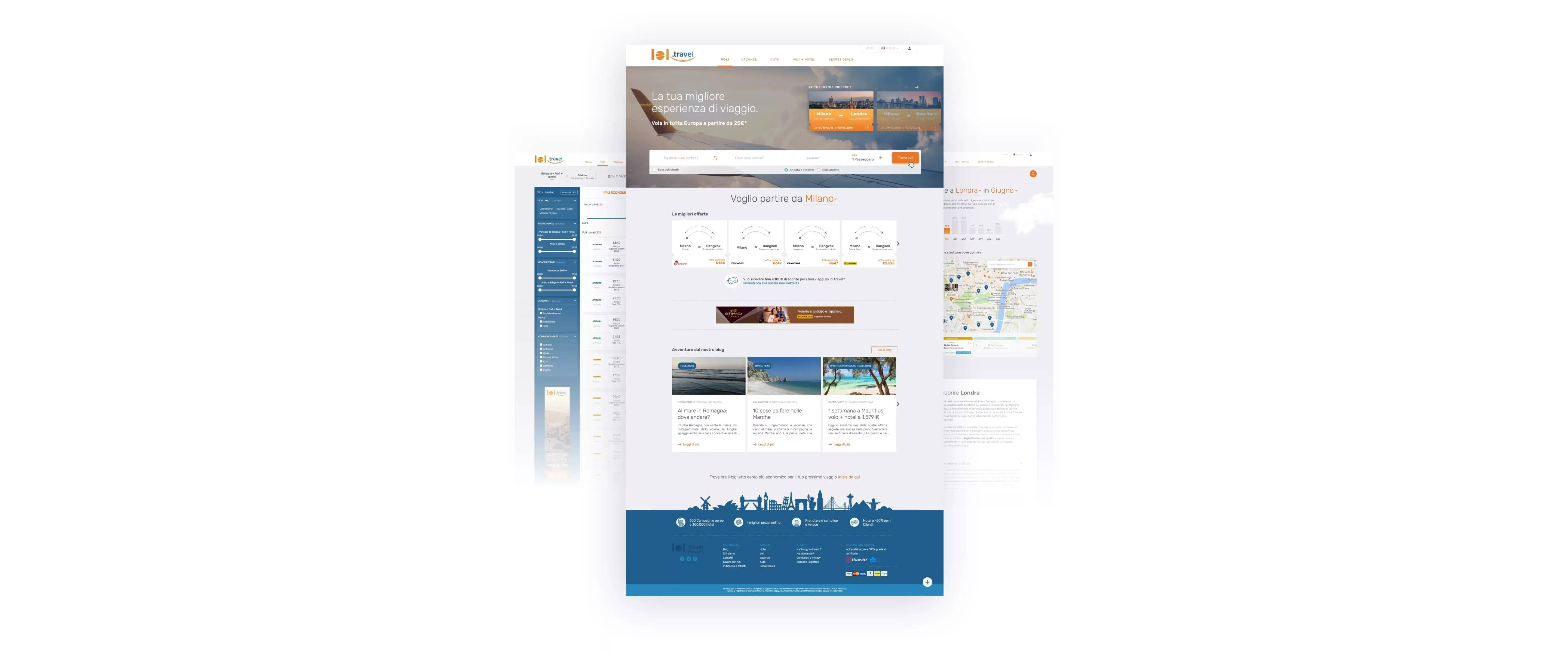 Thanks to the achievement of this first milestone, the two teams got to know each other and were able to calibrate work processes and tools, always focusing on the deadline. This first phase of coming together allowed us to thoroughly investigate the online booking domain and to understand the dynamics of monetization within the business model of lol.travel, acknowledging a highly articulated and challenging technical environment.

Once we completed the redesign of the entire flight ticket purchase experience, we proceeded to tackle the next milestones: redesigning the hotel booking funnel. We focused on transactional confirmation or cancellation emails and created a new reserved area, which would display previous reservations and give access to special discounts and personalized services.

After only 9 months we have redesigned and released a new booking interface which included every single purchasing step: inspiration, comparison, purchase, up to flights and hotel reservations management. These were core topics for lol.travel, crucial to build trust with their target clientele. The plan included a new release every two weeks. The constant release of new features and the interaction between different phases of the project such as research, design and development led to a constant validation of design choices, both from a business and the user experience perspective.
Develop meaningful solutions while knowing the user
Designing without knowing who your users are, or who will be able to use the service (current and potential users), can result in a design that does not take into account users needs, wishes and habits. What are the consequences? Non-loyal customers, low performances and no conversions.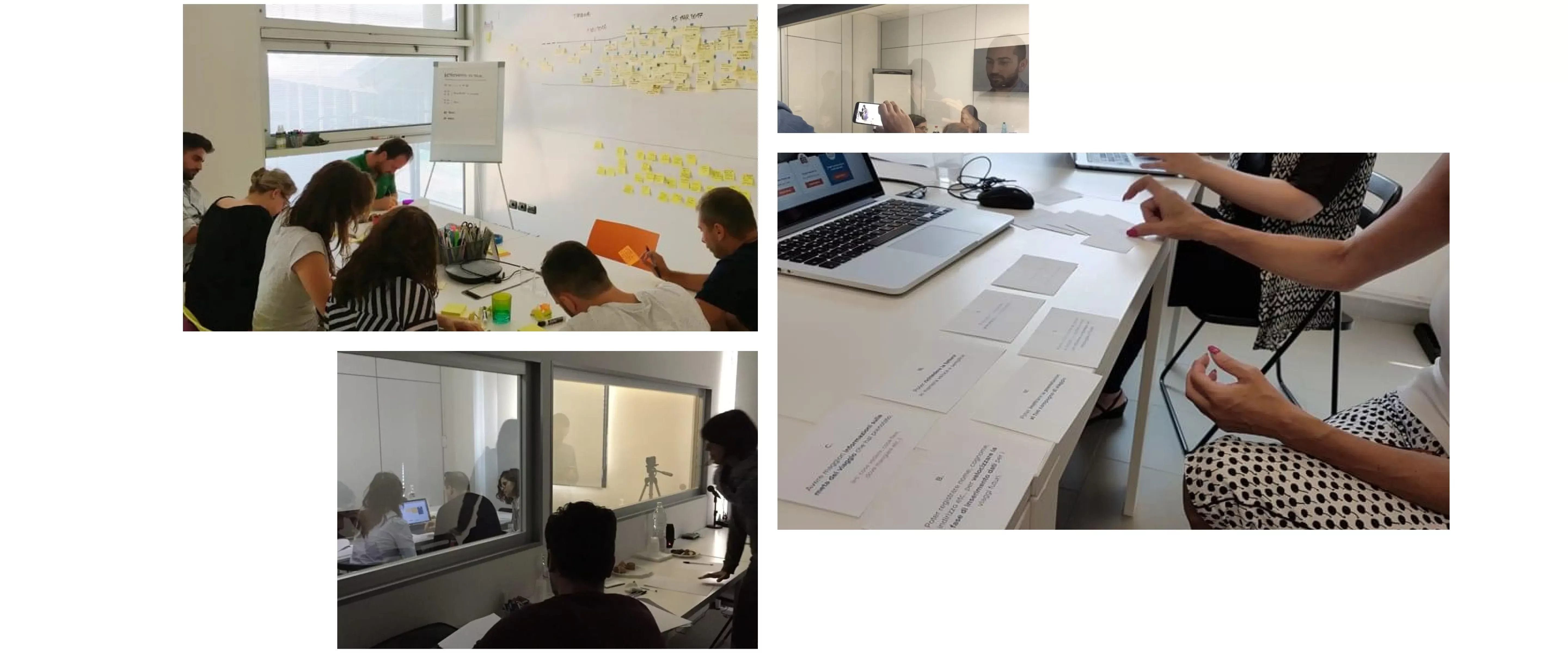 During our project iterations we carried out three research sessions. We investigated different aspects of the usability of online booking processes. Furthermore, we collected information about users habits, needs and wishes in the booking process from competitors websites. Our research focused on quality: we analyzed in depth usability aspects of the purchase funnel (flights and hotels) and the reserved area, understanding "wow" moments and pain points. During the interviews in our laboratory we applied different methodologies including usability tests, card sorting exercises, needs prioritization and exploratory interviews.

During the user test sessions, we developed a very detailed interactive prototype that allowed us to simulate realistic task and scenarios, so that we could communicate directly and concretely with interviewed people. It enabled us to locate obstacles and, once back in the office, to design solutions and possible improvements.
Strategic design language: transforming brand identity
The challenge started with exploring the brand identity of lol.travel and locate the most important aspects for its recognition. Our goal was to build a solid base for a future brand language. The effectiveness of a buying experience strongly depends on how complex information are channeled into a clear design, in order to guide users in their researches, comparisons and final choices.

Therefore, we have built a series of new and more consistent visual guidelines (more consistent than the one presented so far), redefining and improving lol.travel brand identity.

Our typographic choice consisted in choosing only one typeface: Rubik, whose soft features define a strong identity mark. This typeface has been chosen not only for its features and constructive rhythms but also for its extensive library of special characters that has allowed us to maintain the brand identity for worldwide visitors. This represents an important detail that should not be underestimated.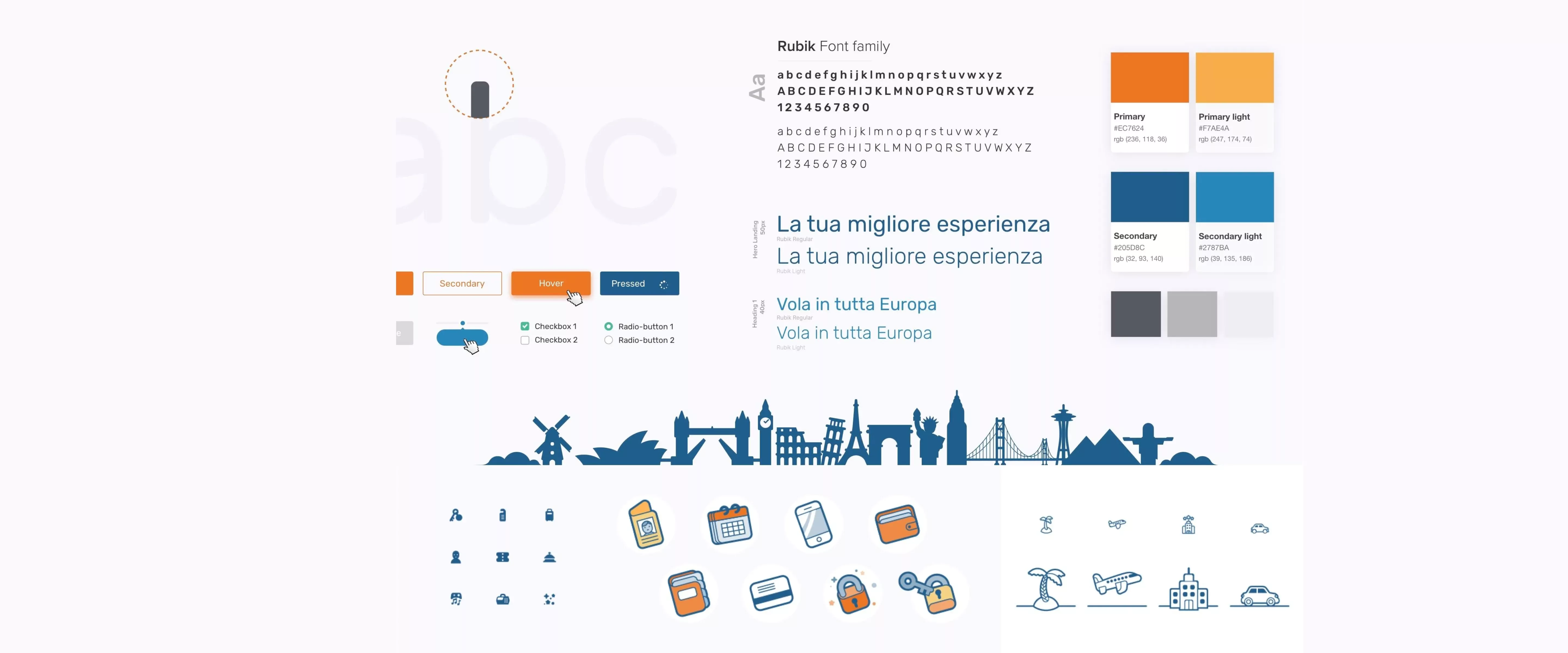 We have studied every detail of the interface, every moment of use, each chosen product segment, to create a visual consistency and a distinctive brand footprint in every purchase phase: from simple inspiration in booking the next holiday destination up to the confirmation of a completed booking.

Every good experience is based on the emotions of users while interacting with products and services. Therefore, we decided that every crucial moment should be accurately represented with an illustration. The user had to feel accompanied, step by step, in the exploration process up until the final purchase. A stylistic choice that, in line with the visual system of lol.travel, has led us, over the course of 9 months of designing, to create a set of over 150 highly recognizable corporate identity icons and illustrations.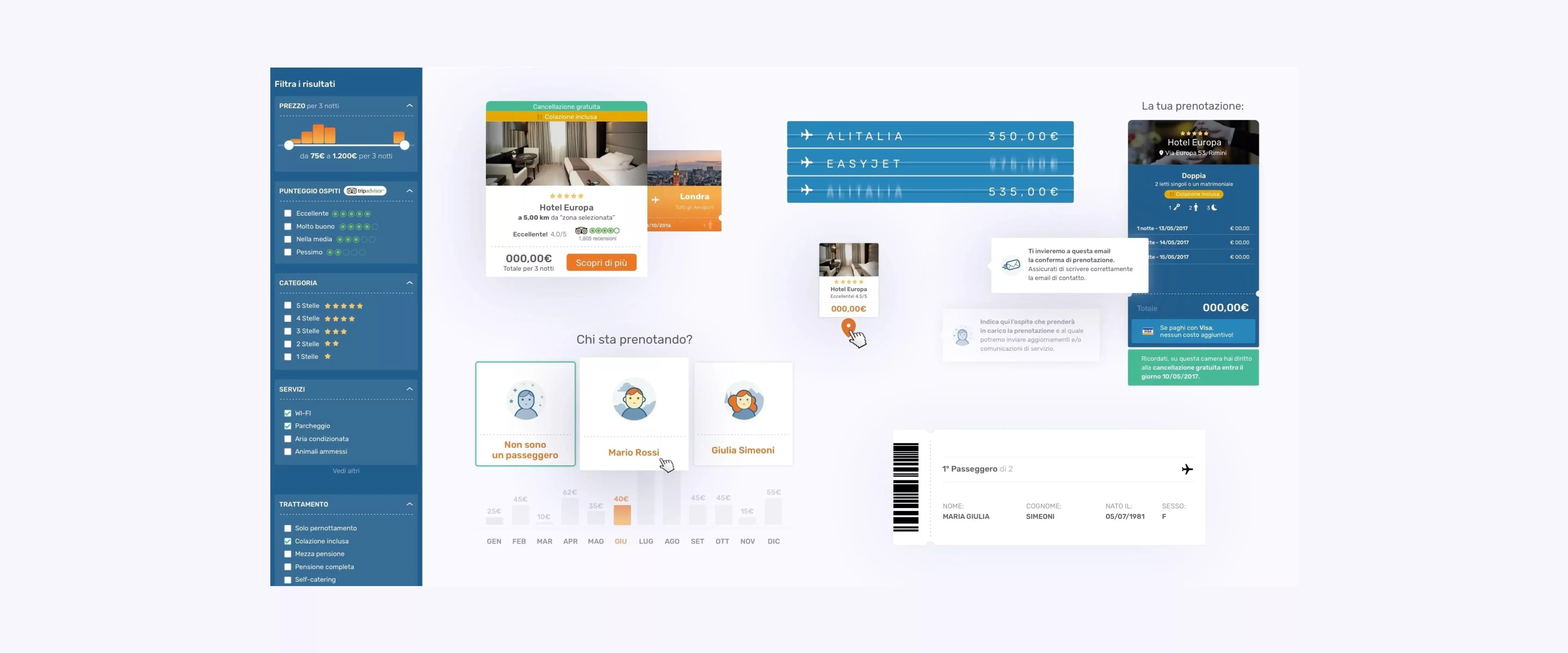 The design guidelines allowed the marketing department to make a parallel and autonomous work of coordinated implementation and plan new brand promotion activities. During the iterations, it helped us maintain consistency and recognition both on and off the website.
Modularity today, flexibility tomorrow
Once the guidelines had been defined iteration by iteration, we have planned, designed and developed an incremental library of components and pages, creating an extended and coherent lol.travel style guide.

At the beginning of the project, the lol.travel site presented two different booking flows, namely flights and hotels, each with different interface components and purchase patterns. This diversity undermined both the mutual recognition, the user experience and their mutual modularity and flexibility for future product implementations.

To plan, build and maintain an updated component library, which simplifies all design and implementation activities, it is essential to monitor growth. This process has to be based on the principle of elements modularity, taking into account the context of their use. Each element that is modular today will be flexible tomorrow. It must have multiple placement uses, which allows interface components and purchase patterns consolidation. This way, the user can always find and recognize them during the exploration of a website.

Design, observe, reiterate
Monitoring a project with appropriate tools, especially after its release, can bring enormous benefits in validation and improvements. Marketing and IT department monitored lol.travel project to allow an effective tracking of conversion objectives. Thanks to the setup of tools such as Google Analytics and Hotjar, it was possible to start a phase of accurate monitoring of purchase flows that users carry out every day to buy their tickets or hotel stays. By analyzing figures, interaction heatmaps and navigation records of users, collected a few months after the online launch, it was possible to plan interventions and improve conversion performances. This type of validation is crucial to continuously collect quantitative data of enormous value, observing and analyzing new needs, friction points, wishes and opportunities expressed by users, ensuring relevance over time thanks to an evolutionary project maintenance.

Project team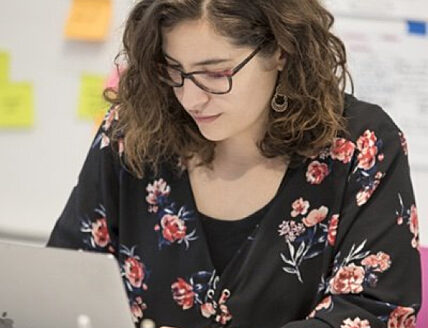 Martina Ferro
Experience designer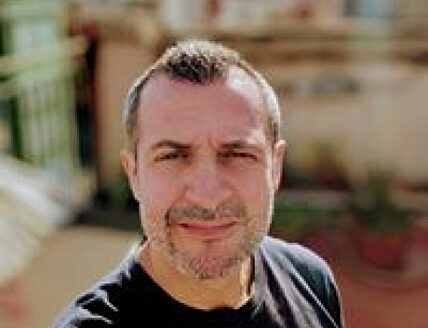 Luca Salvini
Front-end advisor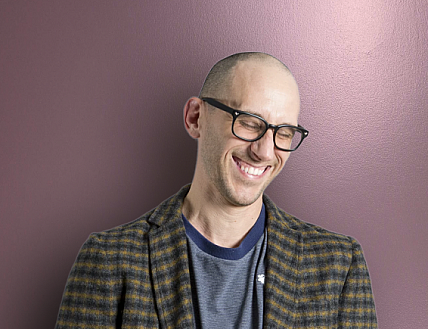 Paolo Valzania
Icon designer & illustrator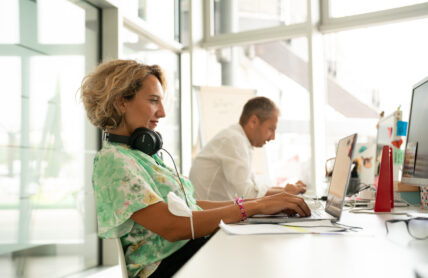 Want more information about this project or would you like to discuss a similar project for your business?